GETTING THINGS DONE® | 

MASTERING WORKFLOW
GTD: FUNDAMENTALS
PRAGUE, 24.8.2017
(Capacity: 12, Registered: 0)
The Mastering Workflow Series is a productivity training program, designed to improve both individual and organizational results. Built upon David Allen's groundbreaking GTD methodology for achieving control and focus amidst a world of constant change and ever-increasing input, this powerful program delivers a highly effective and sustainable way to get meaningful things done.
Developed and tested in the most demanding business environments in the world and based on the international best-selling book Getting Things Done: The Art of Stress-Free Productivity, which sold over 3 million copies, the Fundamentals course builds the foundation for learners to put GTD to work—at work, at home, and in everything they do.
Discover greater levels of productivity for you and your company
If you are looking for a way to achieve greater personal or organizational productivity, to create space for creativity or strategic thinking, and experience less stress while doing so, GTD methodology will guide you step by step through proven techniques of effective workflow management.
For anyone who wants to get more right things done in less time, with less stress and a greater feeling of clarity and control. It has proven equally valuable to individuals and organizations across the widest spectrum - virtually anyone wanting to manage a busy life more effectively will take away tools and best practices to do it.
What will you learn in the course
This course instills the critical distinctions of the five steps of workflow mastery: capture, clarify, organize, reflect, and engage. It focuses on the need to capture all potentially meaningful inputs into trusted tools, the executive decisions required to clarify what those captured items mean and generate actions and outcomes, the primary and discreet categories for organizing information and reminders, the process for consistent orientation reviews of life and work, and how to optimize your system to make priority choices. The course includes engaging lectures, clever animated videos sharing the best practices, hands-on exercises, group discussions, and trainer demonstrations. All of that to ensure that participants will be leaving a training with their own functional GTD system.

GTD brings order into chaos and eliminate procrastination
IN A WORLD WHERE INFORMATION AND TASKS OVERLOAD IS EVER-PRESENT, GTD WILL BRING ORDER TO A WORLD OF CHAOS, INCREASE PRODUCTIVITY, SHARPEN FOCUS AND ELIMINATE PROCRASTINATION.
PIECE OF CONTENT RECIEVED EACH DAY
GB OF DATA CONSUMED DAILY
AVERAGE NUMBER OF E-MAILS RECEIVED DAILY
OF ALL THE DATA WAS CREATED IN LAST 2 YEARS
HOURS SPENT WEEKLY WITH THE FAMILY
Materials for participants
Participant's material set includes:
Detailed workbook with instructions, examples and installation guides
Jump Start Booklet, that will help you to start your own GTD system
Methodology Guide, which covers key GTD principles
Workflow Map
Getting Things Done book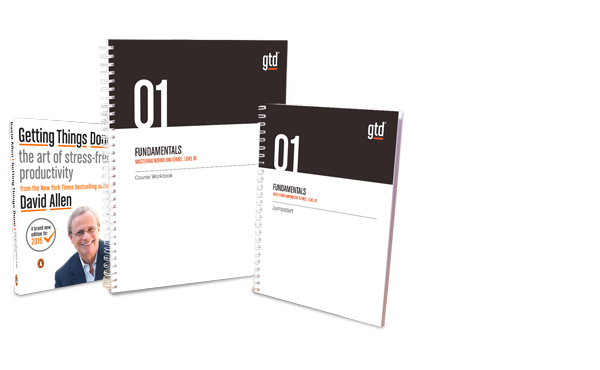 Start your GTD journey for higher productivity with less stress
DATE: 24.8.2017
CITY: Praha, Česká republika
VENUE: To be set
TIME: 9:00 - 17:00
TRAINER: Nataša Brunec, Certified GTD Master Trainer
LANGUAGE: English
NUMER OF PARTICIPANTS*: 8 to 12
PRICE:
Early bird (valid until 20.7.2017): 8500 CZK
Standard price: 10200 CZK
Group price  (2-3): 8000 CZK per person
Group price (4+):  7500 CZK per person
Price includes participant's material, lunch, refreshment. Price does not include VAT.
REGISTRATION CLOSURE: 6.8.2017
* in case minimal number of participants is not fulfilled, we reserve the right to move training to another date
I WANT TO REGISTER FOR THE TRAINING